US Premier of "The Double V" set for May 14th
By Genea L. Webb
Writer Carole Eglash-Kosoff loves history, so when she learned about the Double V Campaign, she knew it was a story she wanted to tell.
Early in 1942, a young Negro tries to enlist in the Army. As a result, he is beaten and told that it is a white man's war. Frustrated from this first experience with racism, the young man pens a letter to the Pittsburgh Courier, one of the nation's oldest Black newspapers. The letter, titled, "Should I Sacrifice to Live Half American?" spurred the paper to start a campaign to shed light on the risks that Black soldiers were taking in World War II while being denied their rights on American soil, and called for a victory not only over aggression, slavery and tyranny like in the original V for Victory slogan, but also for a victory over racial inequality in the United States.
"I learned about the Double V from a friend, and I started researching it. I got intrigued because it seemed like it was forgotten in history. This young man wrote this letter and set a pattern for a whole generation. He lit a fire and ignited a movement," said Eglash-Kosoff, who wrote The Double V as a play in early 2019. Once the Coronavirus pandemic hit, Eglash-Kosoff wrote the play as a book (which was published in early 2021) but still shopped around for theaters to put the play up.
Enter Mark Clayton Southers, Founding and Artistic Director of the Pittsburgh Playwrights Theater.
"What I liked about The Double V is that I was excited to see a play about the New Pittsburgh Courier. I worked at the New Pittsburgh Courier from the age of 18 to 30 as a photographer and it helped shape my life. It was great to see Frank Bolden in the book and the play, who I knew personally," said Southers.
The Pittsburgh Playwrights Theater will be presenting The Double V on the fourth floor of the Trust Arts Education building, 805 Liberty Avenue, for three weekends—Thursdays through Saturdays at 8 p.m. and Sundays at 3 p.m. from May 14th to 29th.
"The Double V is an eye-opener to what was going on back in the 1940s during World War II," explained director Mani Bahia. "There was a lack of justice for the Black soldiers that fought for their country and weren't treated as citizens. It speaks to the long, ongoing fight between Black Americans and the rest of America."
The Double V stars Nickolas Page as Ira, the editor-in-chief of the Pittsburgh Courier newspaper; Jamaica Johnson as eager female reporter Madge; Elexa Hanner as Annie; Dionysius Akeem as Jimmy Thompson; Ryan Bergman as FBI agent; Marcus Muzopappa as Charlie; Boykin Anthony as Frank Bolden; and Matt Southers Jr. as Joe/Chris.
Tickets are $27.50 for general admission; $20 for seniors and students with ID. Tickets for preview shows are $15.
"The Double V shows that we were willing to fight for our country like everyone else," Bahia said. "I'd have people ask themselves what we are going to do as a country to change how people are treated?"
Our 2022 Season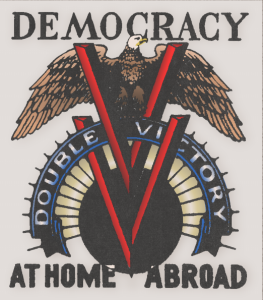 The Double V
By Carole Eglash-Kosoff
Directed by Mani Bahia
At the Trust Arts Education Center, 805 Liberty Avenue, 4th floor
May 14th-29th, Thursday through Saturday at 8 PM, Sundays at 3 PM (preview May 13th)
In 1942, the Pittsburgh Courier newspaper published a letter by a 26-year-old reader, titled "Should I Sacrifice to Live 'Half American?'" and relating how he had been beaten while trying to enlist. The paper responded by starting a campaign to highlight the risks African-American soldiers were taking in World War II, while being denied their rights at home, and called for a victory not only over "aggression, slavery, and tyranny", as in the original V For Victory slogan, but also for a victory over racial inequality in the USA. A Pittsburgh premiere. Read the online program for more about this production and the Double V campaign.
Theatre Festival in Black & White
Part of the Three Rivers Arts Festival, June 3rd-12th
At the Trust Arts Education Center, 805 Liberty Avenue, 4th floor
Festival coordinator: "ranney" Lawrence
PPTCO's signature Theatre Festival in Black & White returns with a selection of short plays, each paired with a director from a different background. The festival originally paired white playwrights with Black directors, and vice versa, but has expanded to bring together playwrights and directors who may have different religions, ethnicity, gender, sexual orientation, or access/disability needs, for example. This year's festival will also be an opportunity to showcase the talents who have been participating in our Ground Up Theatre training program, making the event a true building block of theatric development in Pittsburgh.
Co-presented with the Pittsburgh Cultural Trust as part of the Three Rivers Arts Festival, and free to the public!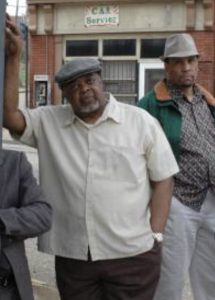 Jitney
By August Wilson
Directed by Mark Clayton Southers
An outdoor production at August Wilson House, 1727 Bedford Avenue in the Lower Hill
August 12th-September 18th, Thursday-Saturday at 8 PM, and Sunday at 5 PM
August Wilson's Jitney is a compelling drama which depicts the lives of the drivers at a jitney cab station in the Hill District in 1977. PPTCO last produced this August Wilson classic in 2010. Co-presented with August Wilson House.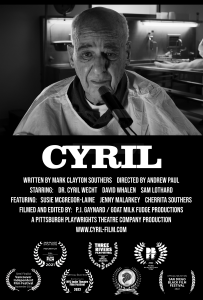 Cyril
A Filmed Play By Mark Clayton Southers
Directed by Andrew Paul
Our filmed adaptation of Cyril premiered at the Three Rivers Film Festival on November 12th 2021!
World-renowned forensic pathologist Dr. Cyril Wecht plays himself in this film, offering detailed and contrarian insights on some of America's most brutal and provocative cases, as he's interviewed for a documentary. As he presents his often-controversial views on cases ranging from the JFK assassination to the OJ Simpson case to JonBenet Ramsey's murder, it's the morning after George Floyd's murder, and behind the camera, long-standing disagreements between the conservative white interviewer and liberal Black cameraman threaten to boil over.
Read more about Cyril and watch the trailer here.
Starring:
Dr. Cyril Wecht
David Whalen
Sam Lothard
Featuring:
Susie McGregor-Laine, Jenny Malarkey & Cherrita Southers
Filmed and Edited by:
P.J. Gaynard / Goat Milk Fudge Productions
Applications for Ground Up Theatre Training are Open!
For 17 years Pittsburgh Playwrights Theater Company has trained people on and behind the stage. Artists sought us out to help them start their careers because they saw people like themselves here. We knew our method of giving individual attention while expecting accountability fostered growth, but we were always too busy to establish a formal training program, until now. With the help of the RK Mellon Foundation, we are proud to announce the establishment of the Ground Up Theatre Training program. We've assessed the regional theatre environment, and determined that our training will focus on:
Sound Design for Stage
The Art of Lighting Design
Costume Design and Assistance
Stage Management
Scenic Design and Construction
Stage Combat
Makeup Design and Application
"This is an excellent educational and enlightening experience. Thank you!" – Sharon Simpson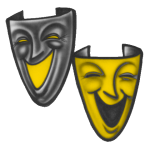 "This is the best idea ever!! Thank you!!!" – Mia Jennings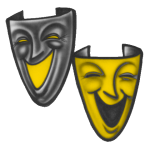 Pittsburgh Playwrights Theatre Company thanks the following for supporting our season of plays and special projects:
Allegheny Regional Asset District
Bloomberg Philanthropies
The Heinz Endowments
Advancing Black Arts in Pittsburgh
The Opportunity Fund
Pennsylvania Council on the Arts
The Pittsburgh Foundation
Richard King Mellon Foundation
Eden Hall Foundation
Double V Design by Wilbert Lewis Holloway
Questions? Email us at contactpptco@pghplaywrights.org
Mailing address: 3400 Milwaukee St Rear, Suite #1, Pittsburgh, PA 15219
Follow Us on Social Media @pghplaywrights